Fire Island is considered one of the world's most beautiful beaches with secluded wilderness areas host to diverse ecosystems of native and migrating wildlife, plants and people. Fire Island is a 32 mile barrier island off the coast of Long Island in Suffolk County, New York. Most of Fire Island National Seashore is on the island.
Nudists from everywhere and many New York weekenders have regularly escaped to its shores and beaches for as long as most people can remember. The locally dubbed "Lighthouse Beach" is what you are looking for.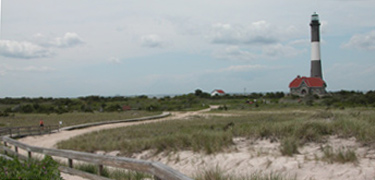 There is a substantial parking area that serves the clothing-optional section of the beach; but because thousands visit this site on weekends, the lot often fills by mid-morning.
Families, couples, single men, and single women all relax in a friendly atmosphere. Children run about digging holes in the sand, play paddleball, surf boogie boards, and splash along the sandy beach which is clean and litter-free.
The nude beach on Fire Island, Long Island, New York, can be reached by car or boat. By car, take the Rober Moses Causeway south to the end, then turn east and go to the last parkng lot. Park on the eastern edge of the parking lot and walk east. You can walk along the beach. The lighthouse will be on the north side of the island and the nude beach will be south and east of the lighthouse. There is a sign thoughtfully provided by the United States Parks Department that says "Caution: Nude Beach ahead".
There are several nude beaches on Fire Island. In addition to the recognized nude beaches, discreet nudity is frequently practiced on isolated stretches of sand in between towns. Topless sunbathing, long legal in NY state, is found just about anywhere, other than in the busiest areas of town beaches.

The 6-mile undeveloped stretch of sand between Smith Point and Watch Hill is virtually deserted and is perfect for nude sunbathing and beachcombing. You can literally walk for miles and not see a single person. Other isolated areas that see frequent nude use include the area just west of Davis Park and the area between Cherry Grove and Sailor's Haven.
Area Links
Fire Island National Seashore (U.S. National Park Service)
A Beginner's Guide to Summer on Fire Island